Hotel refurbishment incorporates twin Vertical Gardens into light well
The hotel, originally built in the 1930s was recently upgraded after being taken over. Many of the rooms overlooked a central courtyard which was aesthetically unpleasant, without any landscaping or vegetation.
The main objective of the client and architect was to soften the space, which was predominately occupied with utility services, downpipes and exhausts.
With no opportunity to landscape the courtyard the architects engaged Atlantis to offer a vertical solution.
The challenge:
The particular site posed a number of challenges. Access was limited for the installation of materials. The varying light throughout the year made plant selection a crucial element.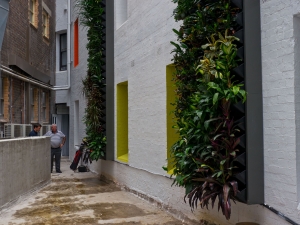 The solution:
These two 11 m high Gro Walls has transformed this once desolate space into one that offers a beautiful element to many of the rooms view.